How To Prepare For A Camping Trip With Pets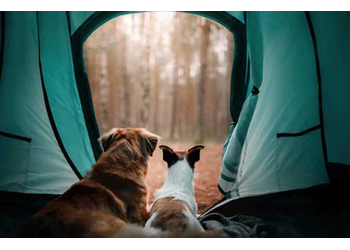 By Water Front 02 Jun 2022
Taking your pets out with you on a camping trip can make the experience a whole lot better. However, there are a few things that you should be aware of when preparing for this. In this, we are going to walk you through our top tips for planning a camping trip that will include your favourite furry little friend.
Have you recently decided to take your pet on a camping trip? If you've done this before, then taking your furry little friend out into the outdoors may not be quite a chore to do again. However, if you've never done this before and are planning your pet's very first camping trip, you may be wondering where to begin.
Going on a camping trip with a pet is not a very difficult thing to do. However, it can become a whole lot more challenging if you fail to plan correctly, pack the right things and take the required precautions.
In this blog, we are going to provide you with a few key tips that will be sure to help you prepare for your pet's first camping trip.
So let's get started…
1. Make Sure Your Pet Is Fully Vaccinated
Before you can take your little guy into the wild, you should take the time to make sure that your pet is fully vaccinated. This will help ensure that your pet is protected from all the potentially dangerous illnesses that it may come across in the wild, especially if he or she is a domestic animal that doesn't go outside often.
2. Prepare Your Pet for Noise and Strangers
Next, you'll want to make sure that your pet is comfortable in loud environments, and that he or she has experience interacting with strangers. The last thing that you'd want is for your pet to act out when they meet someone new [text deleted] or hear a loud noise (which is bound to happen in a public camping ground). You can prepare them for these experiences by taking them out to dog parks regularly, or to a busy environment such as a beach where they can learn to adapt to various types of distractions.
3. Bring a Human/Animal First Aid Kit
And last but not least, it's important to be prepared. You never know what will happen out there in an environment that's as uncontrollable as the wild. As such, it's always necessary to make sure that you're armed with a first aid kit. Our Family First Aid Kit will offer you everything you could possibly need for both you and your pet's safety.
4. Research the Area in Advance
Knowledge is power. As such, it's important to make sure that you research the area you are going to be camping at and make sure that it's pet friendly. Find out where your pet is allowed to go in this area, and where the potential hazards are (such as regular snake sightings, baiting [text deleted] that may be located near your camp site).
5. Make Sure Your Pet Has Flea/Tick Protection
Fleas and Ticks can be quite a menace for a pet, especially if the animal has never been exposed to them before. As such, it's very important to make sure that you take steps to ensure your pet is protected against these before your trip.
6. Bring a Leash and Be Prepared to use it
Ensure you have something to tie them off to if the camping ground requires them on a leash at all times for their own safety.
7. Organize Your Pet's Bedding
Give your pet a comfy nap spot and ensure they have constant shade. In addition to this,it's also important to make sure that you've packed them some comforts from home (such as their favourite blanket or toy) that they can play with or cuddle up next to when it's time to rest.
8. Carry Out Proper Temperature Regulation
And last but not least, you should make sure that they have a jacket or blankets for night time when the temperature drops.